A DESIGN THINKING MENTALITY
"Design is about delivering a satisfying experience. Design thinking is about creating a multipolar experience in which everyone has the opportunity to participate in the conversation." —Tim Brown
I follow a design thinking approach to develop products, processes, services, and strategy. I am a strong advocate of this highly collaborative and flexible framework, which promotes deep user empathy, effective decision-making, and innovative ideas from cross-disciplinary teams.
CO-CREATION WORKSHOPS
"Individually, we are one drop. Together, we are an ocean." —Ryunosuke Satoro
I have expertise in designing and facilitating collaborative workshops that are effective and engaging. Each workshop structure is unique, tailored to the complexity of the project, the nature of the problem, and the personalities of the participants.
ELEMENTS OF PLAY
"The creation of something new is not accomplished by the intellect but by the play instinct." —Carl Jung
In the workplace, play can be a tool that brings out the best in people. It's an opportunity to see co-workers in a different, more human light. Playing together builds trust and sparks our creative juices. I incorporate simple elements of play in every workshop - from having participants introduce themselves with legos to rallying a war chant before difficult tasks.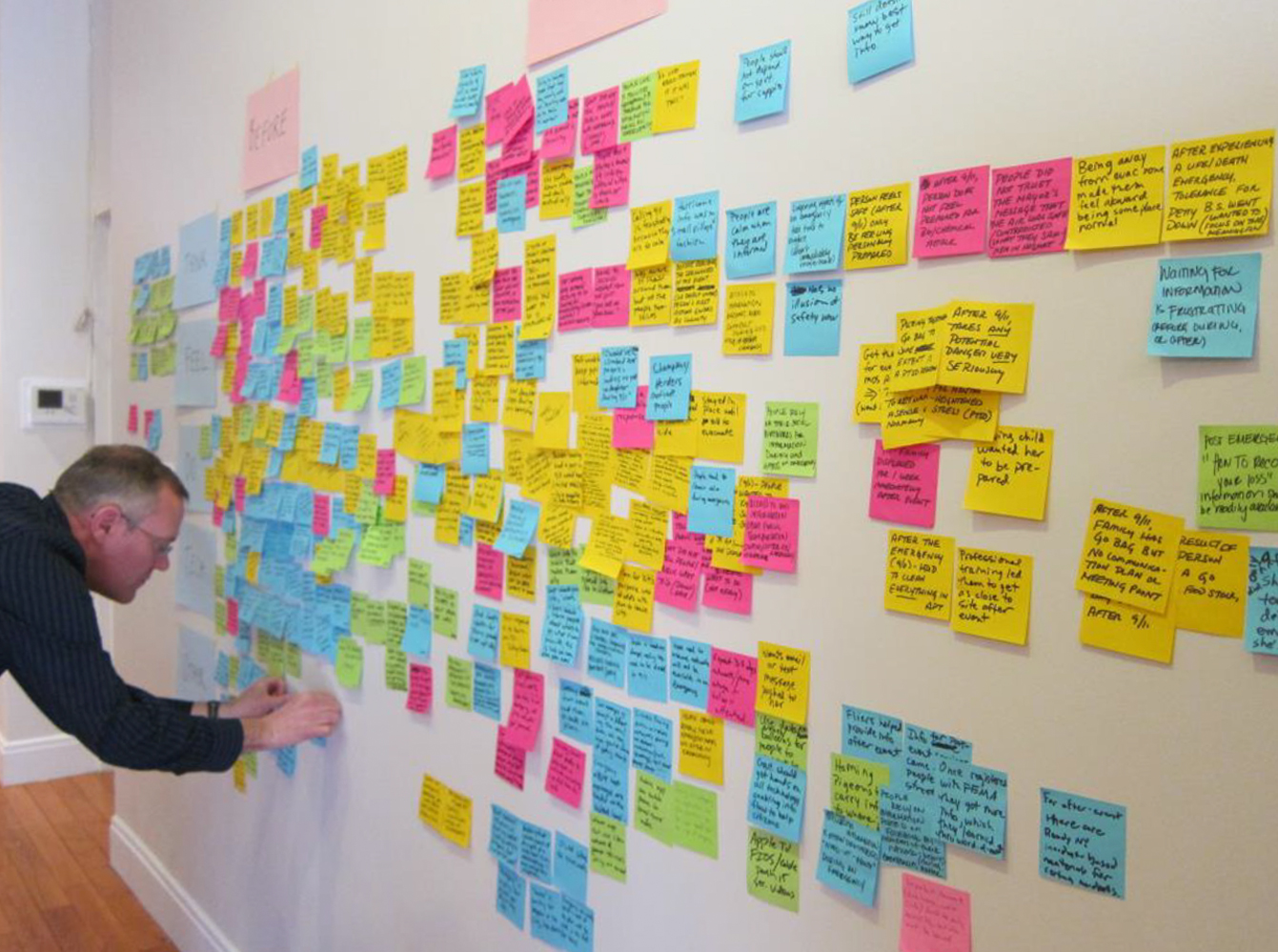 USER RESEARCH & SYNTHESIS
"Supposing is good, but finding out is better."
—Mark Twain
I rely on many different methods to gather research, including user interviews, expert interviews, data analysis, surveys, user testing, participatory observation, role playing, and desk research. I then synthesize the raw data points into Insight statements that not only summarize the underlying patterns but also acknowledge the human factors influencing the patterns.
IDENTIFYING ECOSYSTEMS
"If you can design one thing, you can design everything." ―Massimo Vignelli
No product experience lives in a vacuum. There are moments that lead into it, moments that happen afterward, and moments in between. I identify the ecosystem that surrounds each product or service, to ensure that all components are designed, developed, and synchronized to work as a complete whole.
JOURNEY MAPS
"People's behavior makes sense if you think about it in terms of their goals, needs, and motives."
—Thomas Mann
Journey maps visualize a user's interaction from end to end, highlighting both positive and negative touch points. I frequently use journey maps both to discover and to communicate underlying patterns, critical needs, and future opportunities.
IDEATION
"Imagination is more important than knowledge." —Albert Einstein
I facilitate ideation workshops that allow team members to build upon each others' ideas. Brainstorming and prioritization exercises focus on the Insights gleaned from user research. The ideas are then sketched in more detail to tease out initial requirements.
WIRES, FLOWS, & PROTOTYPES
"Design is not just what it looks like and feels like. Design is how it works." —Steve Jobs
Almost every digital project requires some combination of flows, wireframes, and mock-ups to describe the interactions. Beyond these key deliverables, I promote Lean UX principles, relying on prototypes and continuous collaboration/ communication over more costly and time-consuming functional specs.
PRODUCT DESIGN PROCESS
"Every collaboration helps you grow." —Brian Eno
I have worked closely with product, user experience/design, development, and quality assurance teams to establish robust product design and implementation processes at several organizations. These user-centric processes rely heavily on cross-functional collaboration and are supported by shared workshop structures and standard deliverable templates.
Toolkit